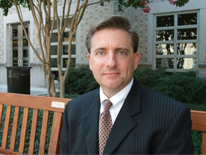 Paul Smith serves as the Office of Tax and Revenue's taxpayer advocate. In this role, Mr. Smith oversees the Office of the Taxpayer Advocate (OTA), which assists taxpayers in resolving complex and unique individual income, business and real property tax issues.
Prior to joining OTR, Mr. Smith served as both the managing director of the Columbus Community Legal Services and the director of the Low-Income Taxpayer Clinic at The Catholic University of America's Columbus School of Law. In those roles, he supervised students in representing clients in tax controversies with the IRS, local jurisdictions, and bankruptcy. He also conducted community outreach projects to educate taxpayers on their rights and responsibilities as taxpayers.
In addition to his work with The Catholic University of America, Mr. Smith was a sole practitioner whose expertise included tax law, family law and consumer protection law. Mr. Smith also worked for 15 years as a teacher and as an administrator in Montgomery County Public Schools, Maryland.
He holds a bachelor's of education from the University of Toledo, a master's in Administration and Supervision from Johns Hopkins University, and a juris doctor from The Catholic University of America's Columbus School of Law.